Cleaning of shop cooler / chiller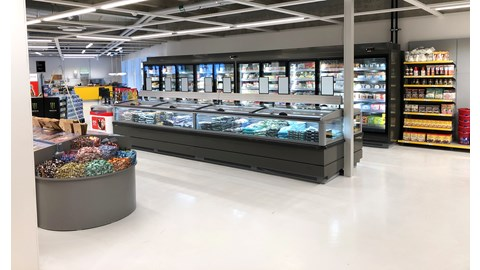 Cleaning of shop cooler / chiller
In the food industry, there is great potential for optimisation and new ways of thinking. One problem area is that many stores do not clean their refrigeration systems. This could include reduced effects on the cooling coil, reduced airflow or blocked drains. The impact on the cooling coil and airflow could in turn lead to food spoilage due to excessive temperatures in the refrigerated cabinets. Clogged drains can lead to water leaking onto the shop floor. In order to prevent these problems, it is important that shops reassess their cleaning of shop fridges / chillers. In this way, they can avoid significant financial losses and ensure that their customers can buy safe and fresh food.
At Nordic Energy Optimisation, we take a holistic approach to your refrigeration equipment. It just has to work flawlessly and be environmentally certified. We understand that the right climate and temperature is important for everything from small grocery stores to supermarkets. We often come across cooling installations that consume energy unnecessarily. We make sure your food refrigeration is economically and ecologically sound, so you can focus on what's important – running your business.
For those who run a grocery store
The F-gas Regulation is a set of guidelines that will soon come into force to help reduce the amount of greenhouse gases emitted into the atmosphere. This will mean that many supermarkets will have to replace or refurbish their current refrigeration systems, as the new refrigerants required by the Regulation will not be compatible with the older models of systems. While this may seem like a daunting and costly task, we recommend that stores take the opportunity to upgrade their cooling systems to models that are more efficient and use less energy. By doing so, they will not only be able to meet the requirements of the F-gas regulation, but also save money in the long run.